An indoor thermal hot pool is available for the use of guests. Guests also have the use of our playground and barbecue area.
18th Avenue Thermal Motel is lucky to have its very own Hot Thermal Pool, which is located in a unique setting depicting a natural scene with waterfalls, palms and wildlife. We are the only centrally located Tauranga motel with a Hot Thermal Pool, which is open every day (except for cleaning on Wednesday morning) and free for our motel guests.
The Hot Thermal Pool water is chemical free and drawn from our own thermal bore on the site. The pool is suitable for both children and adults and we provide separate towels for the pool. The swimming pool is 6 metres long and 4 metres wide so there is plenty of room for all our guests at any one time. The depth of the swimming pool is 0.9 metres in the shallow end and 1.2 metres in the deep end.
Geothermal water in the Tauranga area is heated deep underground by molten magma. In some areas of New Zealand this heated water rises naturally along fault planes and comes to the surface, such as the hot pools you see in Rotorua. In our case we safely tap into this heated water through our own drilled bore for special use for our guests.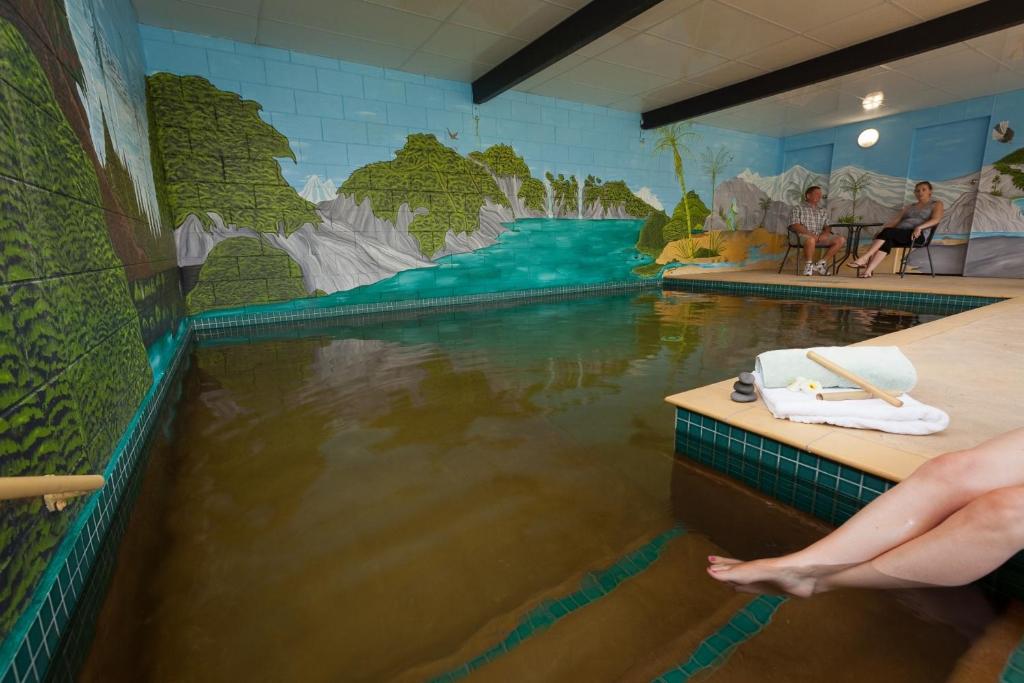 HOT THERMAL POOL HOURS:
| | |
| --- | --- |
| Monday: | 7.30am – 9.30pm |
| Tuesday: | 7.30am – 9.30pm |
| Wednesday: | 2.00pm – 9.30pm (morning closed for cleaning) |
| Thursday: | 7.30am – 9.30pm |
| Friday: | 7.30am – 9.30pm |
| Saturday: | 7.30am – 9.30pm |
CHILDREN MUST BE ACCOMPANIED IN THE POOL AT ALL TIMES. BATHERS MUST KEEP THEIR HEAD ABOVE WATER AT ALL TIMES.