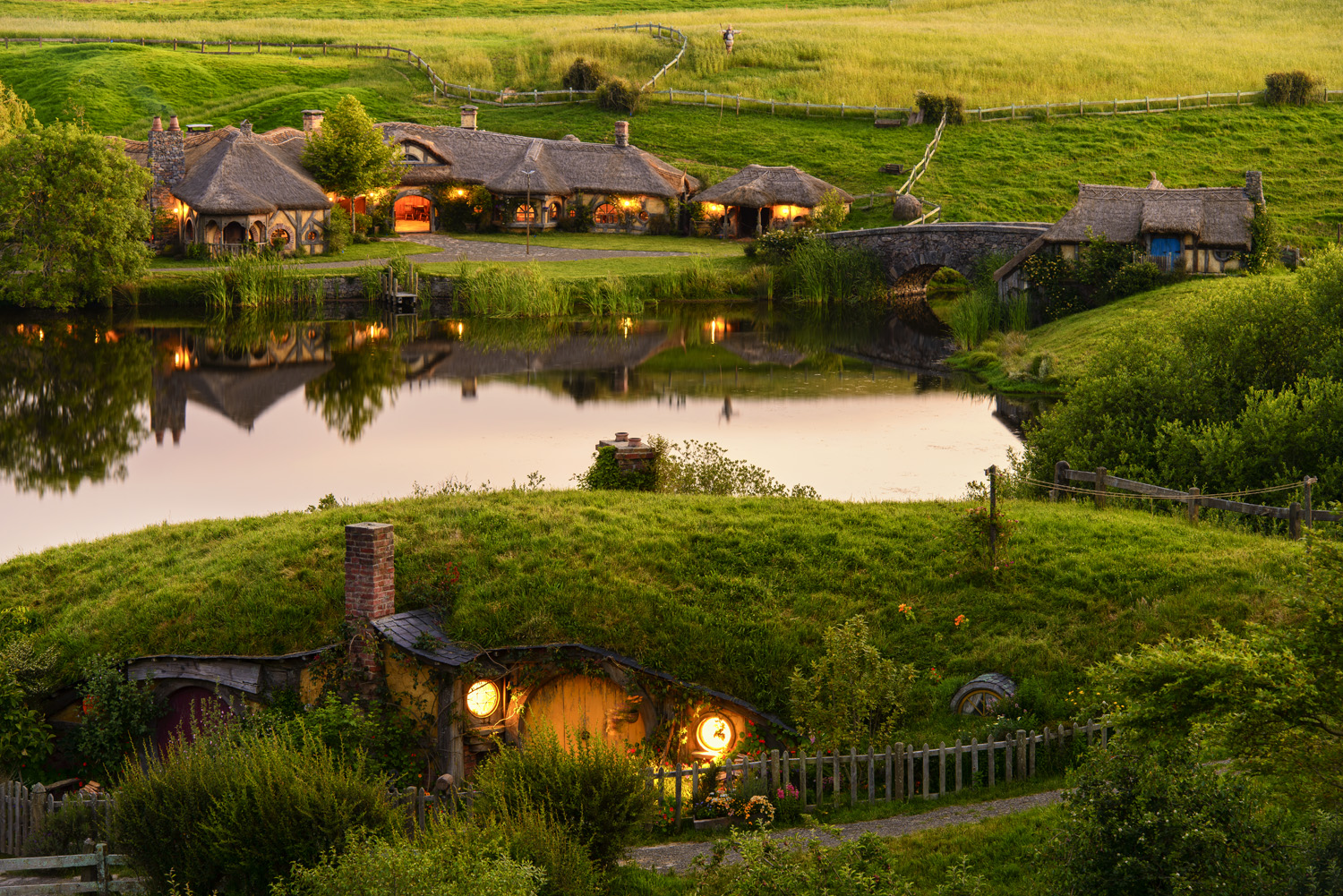 Day Trip Tips: Exploring the Magic of Hobbiton
If you are visiting from overseas there's a good chance you have already heard about this experience. Hobbiton is a must-visit experience for those who are visiting the country for the first time and especially for those who are a fan of the Lord of the Rings franchise. These guided tours take you through a real wonderland of to-detail sets and can include a dinner!    
Hobbiton's origins began when Sir Peter Jackson was scouting for suitable locations which led them to the Alexander farm – a stunning 1,250-acre sheep farm in the heart of the Waikato, just from the small town of Morrisville. The farmland was selected due to the area's striking similarity to 'The Shire' as described by JRR Tolkien in the original books.  
The set was constructed across nine months, and with help from The New Zealand Army, 39 temporary Hobbit Holes were scattered across the 12-acre plot used for the set. After an initial attempt at demolition, 17 bare plywood facades remained. These shells would serve as the catalyst that propelled Hobbiton forward into the public eye, with guided tours commencing in 2002. 
Since then the tour has improved significantly, mainly due in part to Jackson, who returned to film The Hobbit trilogy, and left behind the beautiful movie set you'll see today – 44 permanently reconstructed Hobbit Holes, in the same fantastic detail seen in the movies. 
As part of a tour you will leave the 21st century behind as you travel into the world of Hobbiton, where you get to experience the sets in full glory, which includes wandering the rambling paths of The Shire, to seeing the submerged Hobbit Holes, The mills, and the world-famous Green Dragon Inn where you can taste the themed beverages on tap. There are also evening tours on offer, where you'll be taken through the land at dusk and treated to a banquet dinner at the Green Dragon Inn.  
To get to Hobbiton form Tauranga can easily be arranged as well. Excursions can be booked online as well as shuttle services from nearby Rotorua. So if you and the family are a big fan of the film franchise or want to take in an experience that you will truly never forget, then we can't recommend Hobbiton enough! More information about travel and booking can be found on their website.