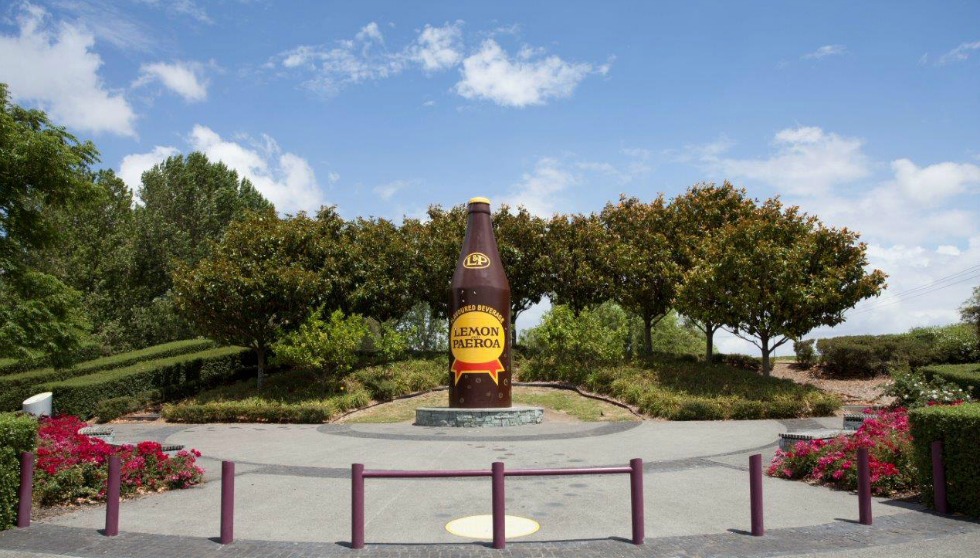 On The Beaten Track: Paeroa
Our New Monthly series will be exploring some destinations to stop into and enjoy if you are traveling long distance to come stay with us at 18th Avenue. We will be exploring some of the landmarks and unique small towns that are worth a few hours of pooping into to stretch your legs and refuel on your way to visiting us.
In our first part, we will be delving into the quirky country town of Paeroa, which is located on route for those guests traveling from Auckland (or the international Airport) down to Tauranga to stay with us.
Paeroa is known for many things, it has been called "the antique town of New Zealand" for its abundance of antique stores, it has the catchphrase of "all roads lead to Paeroa" for the man state highways that pass through the township.  But what it is most importantly known for, and what makes it "World Famous in New Zealand", is it's impossible to miss, twenty-foot tall bottle dedicated to L&P (Lemon & Paeroa), the carbonated soda drink which was founded in the town.
L&P was created in 1907 customarily made by amalgamating lemon juice with carbonated mineral water that was sourced from the town. The drink was originally manufactured in the town but was later bought by Coca-Cola who now manufactures the drink outright. But this sleepy little town doesn't let people forget about its pride and joy, the L&P branding can be seen plastered across many shop fronts, there is a Café dedicated to the soft drink (with its own, albeit smaller, bottle) as well as a car park and detailed historic plaques right next to the iconic bottle which gets hundreds of pictures taken in front of it weekly.
But Paeroa does have a little bit more to give than just its lemon flavoured carbonated water, as mentioned before, the little town has also made a name for itself by having a large number of antique stores and second-hand junk shops, so whether you are a looking for amid century piece of furniture to pull a room together, or a young hipster looking to find a vintage piece of clothing, Paeroa is a must stop for you.  And if hunting for bargains works up a wee bit of an appetite then voyage further into the vintage aesthetic by visiting The Refinery , a café with a 50's flair that is built inside what use to be the National Bank Gold Refinery which was built In 1914, it's huge timber beams and Rimu roof structure is a sight to be amazed and the perfect location to get that ideal Instagram shot in your new vintage chic look.
So do yourself a favor and plan a rest stop in the little town with a big personality, with something for everyone, it's the perfect stop to stretch out the feet and relieve the stress of a long drive.