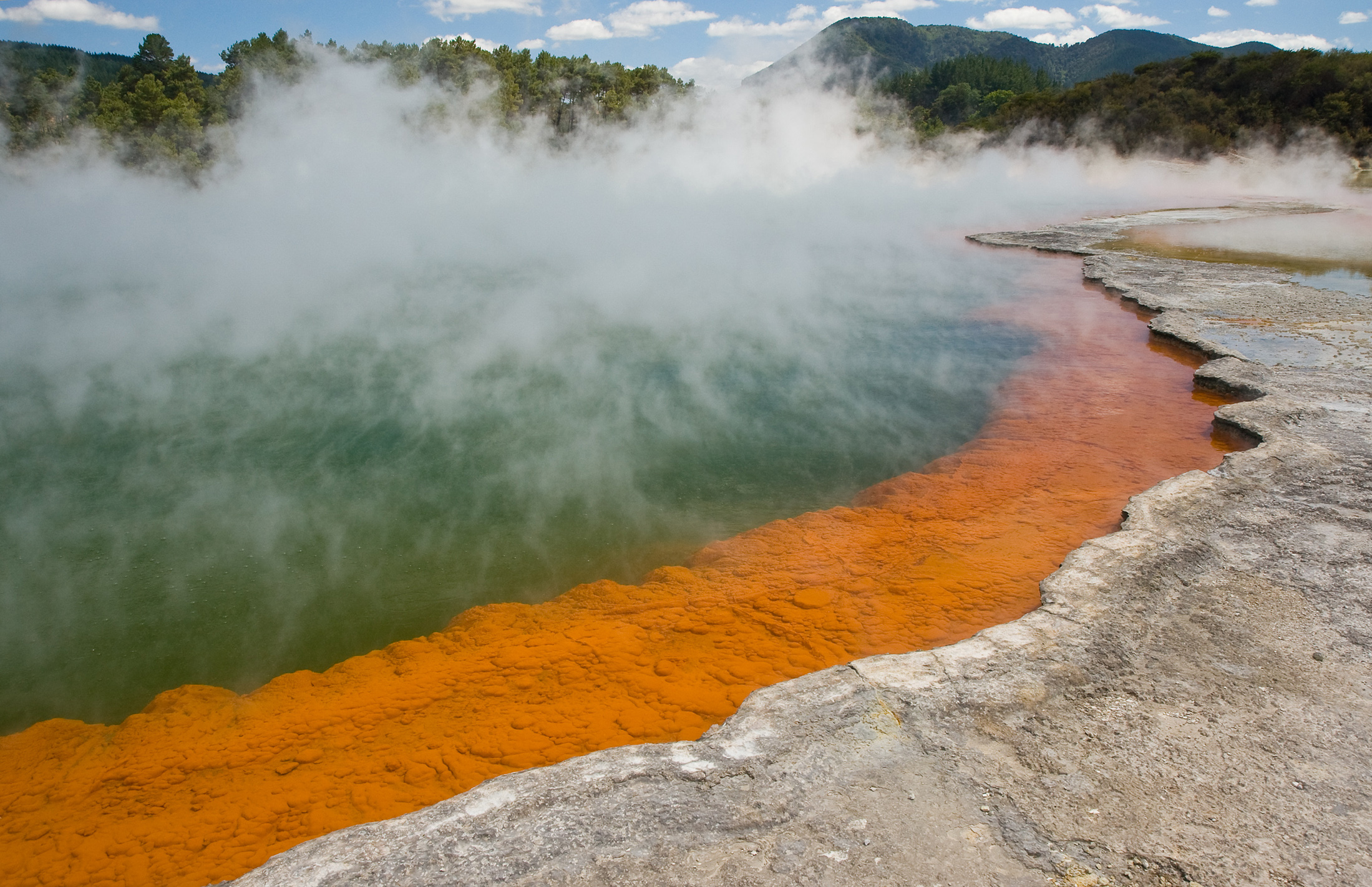 Why Not Visit Wai-O-Tapu?
Maori for "sacred waters" Waiotapu or Wai-O-Tapu as it is commonly spelled is a geothermal area located between Tauranga and Rotorua that is a well-traveled natural attraction for tourists due to its unique water colors, mud baths, and walks. With its close proximity to Tauranga, we delve into what makes Waiotapu such a great option for a day trip during your stay.
Lady Knox Geyser
First of three unique draw cards to Waiotapu is the Lady Knox geyser, named after the 15th Governor of New Zealand's daughter (Lady Constance Knox), the geyser was discovered by a group of well-behaved prisoners that were working on clearing the area, who discovered that it could be made to "erupt" when soap was added to the water. A visible spout was constructed with rocks that have been placed around the base of the spring to enhance the eruption; over the years silica from the eruptions has built up to give a white cone-shaped appearance. The geyser is prompted to erupt daily at 10:15am by releasing a surfactant into the opening of the vent that results in eruptions that produce a jet of water, reaching up to 20m, and can last for over an hour.
Champagne Pool
Named the "Champaign Pool" after the bubbling from the carbon dioxide being similar to that of a glass of Champaign, the hot spring is relatively young, having formed over 900 years ago. The pool is also unique for its orange and green coloring which is part of a larger geothermal park which spreads over 18-sq. km, and makes for an exciting walk, which is made up of a series of walkways and bridges.
The Mud Pool
This free to access attraction is the largest mud pool in New Zealand, originally a large mud volcano, it was destroyed through erosion in the 1920's, the result is this geothermal wonderland! Located here also is Kerosene Creek where you can enjoy a thermal dip free of charge, biking tracks and scenic walks are also located nearby.