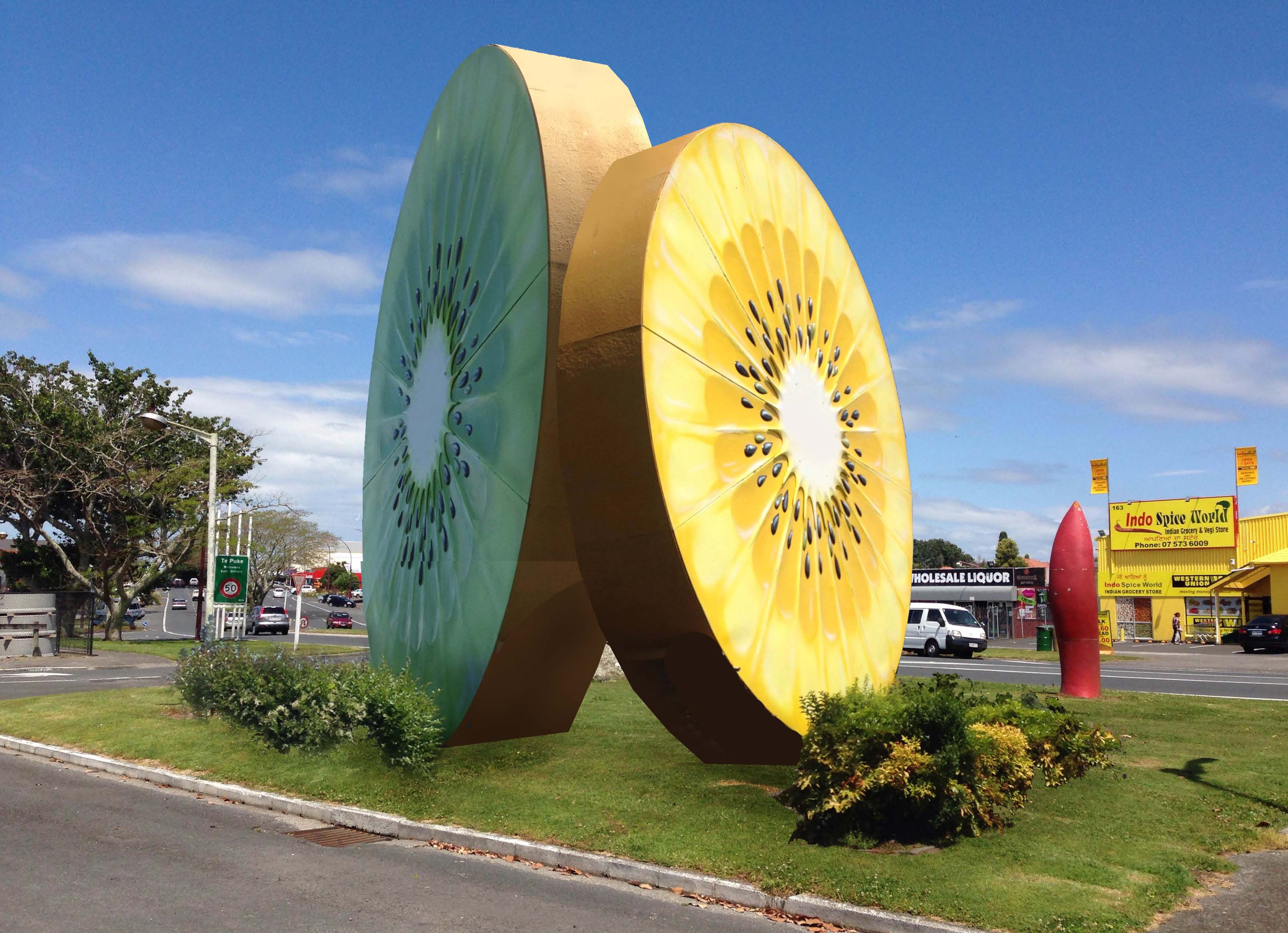 On the beaten track: Te Puke
If you are driving from down south there is one stand-out town that is hard to miss, for good reasons! Te Puke is well loved in New Zealand for many reasons, which we will dive into in this edition of on the beaten track!
When driving into Te Puke, you cat help but notice the gigantic kiwi fruit, which may leave you scratching your head. Well the first fact you should know about this tiny town is that it is known as the kiwifruit capital of New Zealand, Te Puke is also home to around 1000 avocado orchards and plenty of other fruit such as feijoas and citrus which also thrive in this region – so if you are a fresh fruit lover, you may have just stumbled across your new favourite place!
If you want to learn a little bit more about the agriculture in Te Puke, then we suggest you get a bird's eye view of this rural powerhouse by taking a scenic helicopter flight over Te Puke and out along the nearby coast. Aerius Helicopters are based in Te Puke and provide a wide range of charter flights seven days a week. Be amazed by the patchwork of kiwifruit and avocado orchards which sit alongside dairy and sheep farms.
If you're a big fan of manuka honey you won't want to miss Experience Comvita. Step inside a virtual beehive and see the world through the eyes of a honeybee. Learn about the incredible healing powers of manuka honey and take home some of their health, wellness and beauty treats from Comvita's retail store at Paengaroa – just a 10 minute drive from Te Puke.
Stroll along the Te Puke Heritage Walkway and relax in the sunny outdoor plaza which links the town centre with nearby Jubilee Park. Admire the carved entrance way which represents local Maori and read about the town's early heritage on a series of wall displays.
If you love walking, there are plenty of tracks to explore near Te Puke. Wander through native bush, streams and farmland at Roydon Downs Bush Reserve or drive 30 minutes inland and climb Mount Otanewainuku. You'll be rewarded with amazing views across to the East Cape, Rotorua and as far south as Mount Ruapehu.
If you have young children, or you just want to let your inner child run free, then let those imaginations run wild at the enchanting Looking Glass Garden. Fairy tales come to life here with storybook scenes set amongst flowers, ponds and trees.
Te Puke is surrounded by fertile land and friendly people, and will give you a perfect snapshot of rural New Zealand life.